Occupied Palestine | فلسطين
---
ACTION ALERT | #NAKBA65 65 YEARS NAKBA = ENOUGH!
---
15th May 2013 | International Solidarity Movement | Hebron, Occupied Palestine

By Team Khalil
On the 14th May 2013 , a day before the Nakba, on the edge of Bethlehem, a demonstration to remember the day of the catastrophe in 1948 marched from Duheisha refugee camp to the entrance of the village of Al-Khader. Demonstrators then clashed with the Israeli military between 11am and 1pm.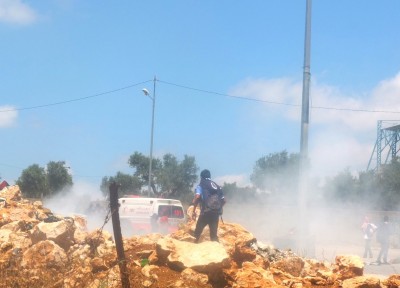 Tear gas is fired at the demonstrators
Al-Khader was the chosen site of the demonstration as the villagers there have recently had one of their agricultural roads closed by the Israeli military.
Hundreds of Palestinians of all ages (7 to 18+) from Duheisha and surrounding areas came out carrying right of return flags and chanting for freedom and an end to the occupation. Israeli troops fired numerous tear gas canisters and rubber coated steel bullets at…
View original post 704 more words